Father and son team David and Ben Rider have established an FBO in western Maryland based on the Golden Rule: they treat pilots and their passengers the way they would want to be treated when flying into FBOs themselves.
Although it has only been open since 2003, Rider Jet Center at Hagerstown Regional Airport - Richard A. Henson Field (KHGR) is based on years of experience and industry knowledge-and already has the reputation to prove it. This family-owned FBO, located on the airport's northwest quadrant, offers pilots and passengers excellent physical facilities, personalized service and some of the best customer service in the region.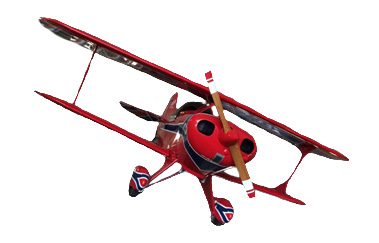 David Rider, a Hagerstown native who has been in the general contracting business for 30 years, has been flying out of his hometown airport since 1967. Rider's son, Ben, is a 2002 graduate of Embry-Riddle. Soon after Ben graduated, the Riders decided the airport would benefit from a new FBO, and in February 2003 Rider Jet Center opened its doors. "We are the only FBO here on the field now," David says, "and we've already grown quite a bit since 2003."
A full-service FBO with 20 employees, Rider Jet Center is open "24 hours a day on call," David says. It is more than a promise as a pilot earlier this year learned. When his plane would not start at 11:30 p.m., the pilot's call to the after hours number brought assistance within 15 minutes with a power cart. The plane started, and pilot and passenger were on their way.
In addition to a well-stocked pilot shop, state-of-the-art WSI computers are available to departing pilots for weather briefings in the pilot briefing room. A luxurious, spacious passenger terminal and comfortable, attractive pilot lounges and snooze rooms, along with satellite television and conference rooms are also available. Friendly, professionally trained customer service representatives can make arrangements for hotel accommodations in the western Maryland area as well for rental cars and catering services. With a call ahead from a pilot, a courtesy car will always be waiting for pilots who will be visiting in the Hagerstown area.
"We try to always have a golf cart to lead every aircraft in, whether it is a jet or a 150," David says. Rider Jet Center offers Air BP products, including Jet-A and 100LL, and attentive line service personnel to assist pilots. "All of our line service personnel go to yearly training at Air BP," David adds.
In addition to ramp or tiedown aircraft parking, the FBO also offers 40,000-square-feet of heated hangar space. Ground and in-flight training is provided for a private pilot rating through ATP in single or multi-engine aircraft with Eagle Air, a Cessna Pilot Center. Aircraft rentals are also available.
"The customer is number one," David says. "Our mission is to provide pilots, passengers and their aircraft with the highest level of safe and professional service in the industry. I have flown for 40 years and have been to all kinds of FBOs, and while they all vary, I know what I expect when I go to an FBO. I think that's what we've been able to provide here in Hagerstown."
As those who have flown into KHGR know, Rider Jet Center is a great stop whether you're traveling up or down the East Coast.